The Onion
to
Thought Catalog
has addressed the scourge of an unread stack of magazines, and a group of four
anonymous New Yorker fans
this summer even started a newsletter summarizing the best of each issue.
Now The New Yorker itself is experimenting with a way to help readers finish its stories online. Last week, the magazine debuted a new widget on its website that tries to anticipate when a reader is about to close out of a story and pops up asking if the reader wants an emailed reminder to come back to the spot where they were left off. So if, for some unthinkable reason, you get distracted only 22,000 words into John McPhee's 28,000 words on the Atchafalaya River, you can start again there later.
The remind-to-read tool was developed by New Yorker senior software engineer Leonard Bogdonoff, who began working on it as a personal project outside of work. He plans to make the code behind it open source.
Bogdonoff began thinking about the glut of content produced online every day, and how easy it is for readers to save articles to Instapaper or Pocket and forget about them — or to just be overwhelmed by the continuous stream of posts on social media.
"I wanted to play with this aspect that people knew what they wanted, but the current mechanics don't allow for people to actually engage with stuff that they know they want," he said.
The widget is only available on The New Yorker's desktop site, and it pops up on stories after a reader stops scrolling down through a story and begins scrolling back up. The developers thought that this was a signal that people were getting ready to leave the story.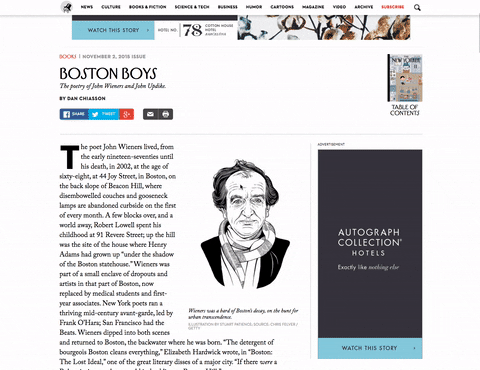 Once readers enter their email address, the default option is that they'll get a reminder sent to their inbox in two hours — but they can choose to get the reminder email sent immediately or in up to three days. And when users click back to the article from their email reminder, the page will highlight where they left off and they can continue reading from there. Oneil Edwards, The New Yorker's interactive art director, designed the tool.
The widget launched last week, and The New Yorker has only spotty data on its usage so far as it works out some kinks in the tool, Bogdonoff said. Still, through the first few days, the module appeared on 19 percent of pageviews, he said. Among the users who saw the widget, 4 percent hovered over it — and of the people who hovered over it 4 percent submitted an email address.
Of those who've received reminder emails, 51 percent have opened them, and 22 percent have actually clicked through to get back to the article. Follow that chain of percentages and you end up just with a tiny slice of the New Yorker audience. But The New Yorker's business model relies on converting readers into paying subscribers, and the new widget is one of a number of ways its trying to keep readers engaging with its stories and coming back to its website, said Nicholas Thompson, the editor of NewYorker.com.
The New Yorker debuted a redesigned website in July 2014, and
last fall it introduced a metered paywall
.
"Our continual challenge is that our whole model for the site is: how do you get people to read a story from beginning to end, because the assumption is that when somebody reads a story from beginning to end, they're then more likely to subscribe, more likely to share it, and likely to have a real affinity with a writer and the magazine," Thompson said. "So everything we can do to get them from beginning to end is important — whether it's presenting the article very cleanly with as few things interrupting you as we can, making the article available in as many ways as we possibly can, promoting it at different times, and now this little extra thing, so that if people start to leave, we can get them back to it."
If usage increases, Thompson said the magazine could use the data it collects to inform how it publishes and tries to reach readers. So, for example, if it notices readers coming back to long articles in the evenings, it might do more to publish and promote its stories at that time.
Regardless of whether The New Yorker keeps the reminder on its site, Bogdonoff is hopeful the tool will be used by others once it is open-sourced. Bogdonoff, who's leaving The New Yorker at the end of the year to join the federal government's 18F, said he's been posting about the tool on Reddit and other developer forms and he's also received some interest from publications who might want to adapt it.
Ultimately though, Bogdonoff said, he could envision a number of futures for the tool, including a paid version of it, which he's already started shopping online.
"The ideal situation is that this gets copied or duplicated, and someone within certain companies identifies this as a valuable user experience and recreates it," Bogdonoff said. "The other side is being able to see people take interest in developing an open source alternative, expand the tooling so other people can adopt it internally. I see value in the open source way and I also see value in just a simple installable tool that people might pay for so they don't have to go through the trouble of setting it up themselves. I would love to see companies that have the engineering skill set up their own internal version. I'll continue developing this and sustaining it, but I'll go onto other projects as well."
Photo by
Flood G
used under a Creative Commons license.
For as long as The New Yorker has existed, its readers have lamented not being able to get through everything in the magazine. Everyone from