A new report from the American Press Institute looks at digital subscription adoption at newspapers across the U.S. The report's author, API research fellow Alex T. Williams, examined 98 papers; of those, 77 had a paid digital subscription plan of some sort, and 71 of those plans were launched just in the last five years.
The report looked all U.S. newspapers with a circulation over 50,000.
Metered paywalls are the most common; the median number of free articles at papers with a metered paywall is 10. Meanwhile, freemium models — in which the traditional newspaper's website is free, with basic content like wire stories and weather, but proprietary content is hosted on a separate paid site — "are 3 times more popular in the Southwest [36 percent of newspapers] than in any other region."
Just three papers — The Wall Street Journal, Honolulu Star-Advertiser, and Newsday — have hard paywalls.
Digital subscription rates vary widely by the paper's location ("newspapers in the Northeast and Central United States tend to have higher digital subscription prices"), subscribers' locations (subscribers outside a certain geographic area pay more), and type of paywall:
According to our data, newspapers charged an average of $3.11 a week for a digital-only subscription and $3.29 for a digital subscription + Sunday print delivery. At the extreme ends of the pricing spectrum, the most expensive plans belong to the Omaha World Herald ($6.25 digital & $8.74 to include Sunday print) while the least expensive plans belong to the Daily Gazette in Schenectady, N.Y. ($1.25 digital & $1.50 to include Sunday print).

Our data shows that the type of model may influence the cost of a digital subscription. The average weekly price of a digital subscription for newspapers using a meter model is $2.97. For freemium models, the price increases to $3.52. And for newspapers using a hard model, the average price jumps to $4.43.
The report also looks at how pricing strategies have changed over time — especially since 2012, "a pivotal year for digital subscription plans." The New York Times launched its metered paywall in 2011. "By the end of 2012, 41 of the 98 newspapers studied had launched metered subscription models, 7 more 'hard' models, and 4 freemium models."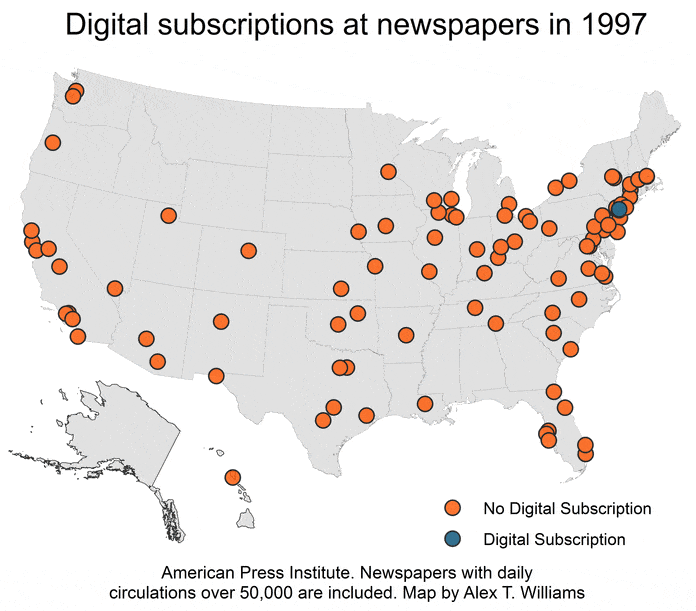 The Times' strategy has been particularly successful, Williams argues, because the Times "spent a year to study and test how to market the digital subscription." Other papers then followed that model, rather than doing their own research: One study, for instance, found that "85 percent of publishers consulted with other newspapers before implementing a plan. However, only 29 percent conducted focus groups and only 28 percent tested the digital subscription with a subset of users."
The full report is here.